Club History
Edit
Dando And The Gang Of Hounds are a group of dogs that get bentos by "Cheating" rather than by fighting. They use the rules against wolves in order to easily obtain bento. However, when Satō was thinking about joining them, he noted that just obtaining bentos isn't as awarding as fighting the strongest and earning them.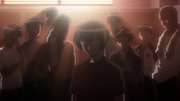 The clubs current president is Dando.
Ad blocker interference detected!
Wikia is a free-to-use site that makes money from advertising. We have a modified experience for viewers using ad blockers

Wikia is not accessible if you've made further modifications. Remove the custom ad blocker rule(s) and the page will load as expected.